In a world where boundaries often confine us, there are individuals who refuse to be limited by the constraints of a singular path. Rene Samuel is one such individual, whose journey is an inspiring tale of pursuing multiple dreams simultaneously and proving that it's never too late to make aspirations a reality.
Rene's journey begins with a remarkable academic achievement—a Triple Major Bachelor of Arts Degree in Psychology, Physical Education, and Travel and Tourism from Mount Carmel College in Bangalore, India. This diverse educational background laid the foundation for her multifaceted approach to life.
From an early age, Rene had an unwavering passion for writing and storytelling. She recognized the magic of words in transforming and inspiring individuals. This passion led her to pursue a career as a Freelance Writer and Audio Content Curator after college. She crafted engaging blogs and captivating illustrations for various platforms, but her true expertise lies in creative writing and storytelling.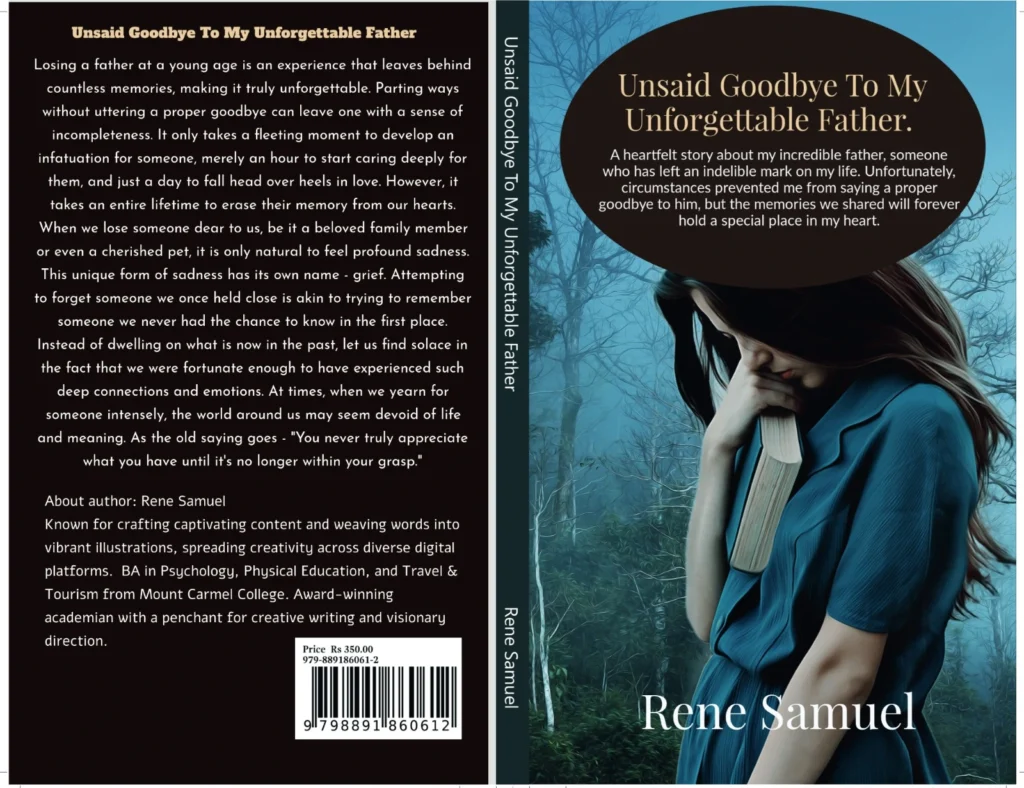 Rene's book, "Unsaid Goodbye To My Unforgettable Father," is a deeply personal and heart-wrenching journey. It delves into the painful reality of losing her father to suicide but also shines a glimmer of hope as her mother discovers a second chance at love. This book is a poignant reminder that even in life's darkest moments, there exists the potential for healing and rediscovery.
Rene's path to becoming a published author was not without its challenges. She faced rejections from publishers at a young age but stored her book draft in hopes of one day realizing her dream. Ten years later, her perseverance paid off as Notion Press accepted her book, proving that with determination and maturity, dreams can come to fruition.
Rene's journey extends beyond writing. She also works as an IT technical support professional, combining her creative and technical expertise. Her role demands exceptional communication skills and product knowledge to deliver top-notch service to clients. This duality allows her to approach scenarios with a unique perspective and problem-solving skills.
Rene is not just confined to her professional pursuits. She's actively involved in animal welfare activities and offers pet boarding services. Additionally, she's an aspiring freelance model, adding an exciting dimension to her life.
Rene's life philosophy is a message of empowerment. She believes in embracing opportunities and pursuing multiple dreams simultaneously, highlighting that settling for just one dream is akin to limiting one's potential.
Rene Samuel's story is a testament to the importance of resilience, determination, and the power of believing in oneself. It showcases the idea that life is too short to restrict oneself to a single dream. Her journey inspires us to break free from the constraints of conventional thinking and embrace the multitude of opportunities that life presents.
You can connect with Rene Samuel on LinkedIn and follow her on Instagram. Her book, "Unsaid Goodbye To My Unforgettable Father," is available for purchase on Amazon India, Flipkart, and Notion Press, with plans to make it accessible to international readers. Rene Samuel's story serves as an inspiration for anyone seeking to pursue their dreams and passions in a world full of possibilities.
Contact with Rene Samuel – renesamuel1996@gmail.com +91 8618886821
Purchase My Book on Amazon — Rene Samuel
Purchase My Book on Flipkart – Rene Samuel
Purchase My Book on Notion Press — Rene Samuel