Insane Aashish is a renowned illusionist known for his captivating and dynamic performances that combine expert illusions, mind-bending tricks, and a deep understanding of psychology. With a touch of spontaneous humor and a charming personality, he's gained popularity, especially among the youth. His unique blend of actions, ideas, and illusions sets him apart, and he's quickly becoming one of the most sought-after illusionists globally. Insane Aashish's impressive portfolio includes collaborations with JIO and numerous other global clients, including celebrities like Karan Johar, Malaika Arora, and more. He's known for his ability to push the boundaries of illusion and create mesmerizing experiences that leave audiences spellbound.
Aashish's performances aren't limited to a single venue; he's showcased his talents at weddings, corporate events, TV shows, college campuses, house parties, and more. With over a decade of experience and engagements with 100+ global clients, he brings a wealth of expertise to every performance. His relatable and clean style makes him suitable for diverse audiences and cultures, and he takes the time to understand the needs of his clients to ensure their desired outcomes are achieved.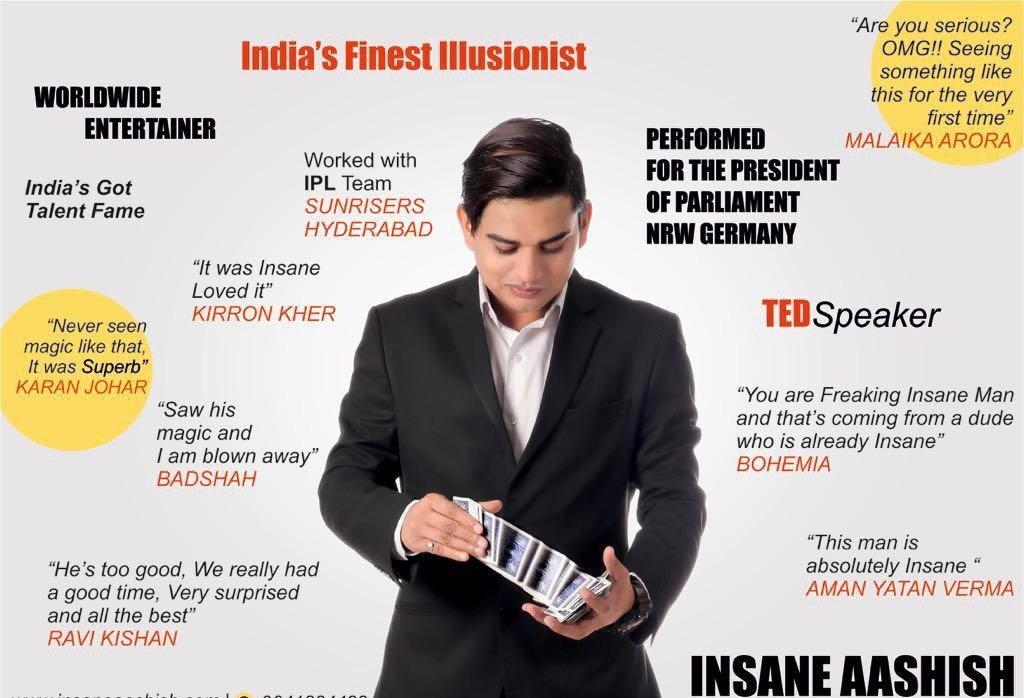 Beyond his magic prowess, Aashish is also a TedX speaker and a TV personality, showcasing his versatility. He's worked with top-tier individuals and companies worldwide, which speaks to his credibility and reputation. His performances consistently deliver a "wow factor," and he's earned a reputation for generating guaranteed results due to his association with renowned celebrities and brands.
If you're interested in witnessing Aashish's magic firsthand or booking him for an event, you can connect with him through his Instagram account (@insaneaashish) or via email at insaneaashish@gmail.com. With his exceptional talent, years of experience, and impressive track record, Insane Aashish continues to make his mark as an extraordinary illusionist in the world of entertainment.
Website — INSANE AASHISH