In today's digital age, e-commerce has become a dominant force in the global marketplace. The ease of online shopping and the vast potential of reaching a wider audience have led to a surge in e-commerce businesses. Sellsme.in, an online e-commerce website provider, emerges as a valuable platform for aspiring entrepreneurs looking to establish their online presence with minimal effort and cost. This delves into the features, benefits, and significance of Sellsme.in in empowering e-commerce entrepreneurs.
One of the most appealing aspects of Sellsme.in is the convenience it offers to budding entrepreneurs and makes their website like Amazon, Flipkart, meesho, Tata cliq own their own domains The platform provides a first 30 days free trial, allowing users to explore its offerings without any financial commitment. This trial period is crucial for users to assess the platform's suitability for their business needs before making a long-term commitment. It provides an opportunity to test different themes and features, ensuring that users can create an online store that aligns perfectly with their vision.
Sellsme.in stands out for its wide array of diverse themes and features. These themes cater to different industries and niches, enabling entrepreneurs to choose one that best represents their brand identity. The platform's user-friendly interface empowers individuals with little to no technical expertise to create professional-looking websites in just a few clicks. Additionally, Sellsme.in offers a range of customization options, allowing entrepreneurs to personalize their online stores to reflect their unique brand image.
A critical aspect of any e-commerce website is its payment processing capabilities. Sellsme.in addresses this concern by supporting more than 18 payment gateways, ensuring seamless and secure transactions for customers. This variety of payment options helps build trust with customers, thereby enhancing their overall shopping experience. With Sellsme.in, entrepreneurs can confidently offer their customers multiple payment options, thereby maximizing sales potential and customer satisfaction.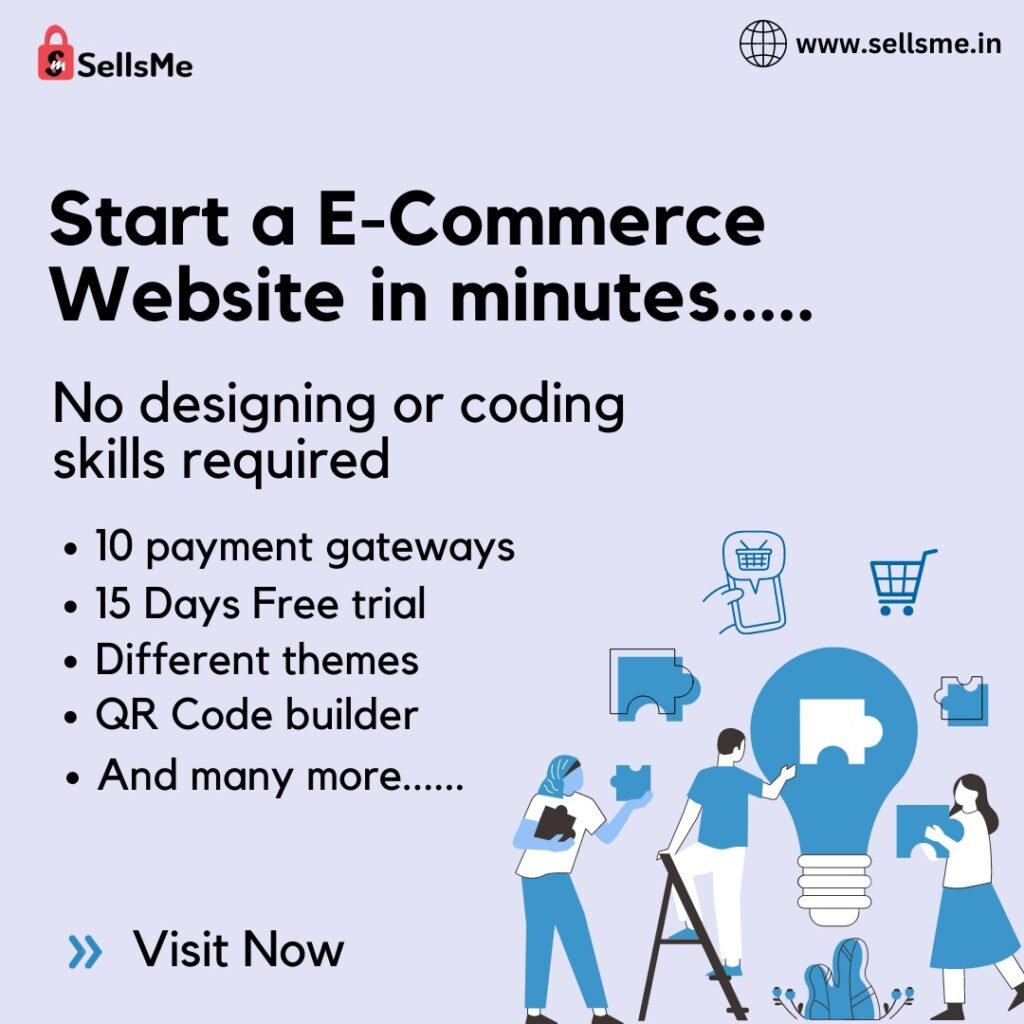 Sellsme.in's pricing model is exceptionally competitive, with a monthly subscription starting at cost of just Rs 199. This affordability makes it an accessible option for small businesses and startups looking to kickstart their e-commerce journey without significant upfront costs. Moreover, the ongoing offer further sweetens the deal, encouraging entrepreneurs to take advantage of the platform's services at an even more affordable rate.
Perhaps one of the most attractive features of Sellsme.in is the promise of an online e-commerce website in just minutes. The platform streamlines the website creation process, enabling entrepreneurs to set up their online store quickly and efficiently. This rapid deployment ensures that entrepreneurs can capitalize on opportunities and enter the market swiftly, without wasting precious time on complex website development.
In conclusion, Sellsme.in serves as a game-changer in the e-commerce landscape, offering a hassle-free and cost-effective solution for aspiring entrepreneurs. With its diverse themes, robust payment gateways, and user-friendly interface, it empowers individuals to establish their online presence and compete in the digital marketplace effectively. By providing a first 30 days free trial and affordable pricing, Sellsme.in demonstrates its commitment to supporting e-commerce entrepreneurs in their journey towards success. As the e-commerce industry continues to grow, Sellsme.in remains a reliable and accessible platform for anyone looking to embark on their e-commerce venture.
Website — https://sellsme.in
Click to View Profile — Sellsme Instagram
Click To View Profile — Sellsme Linkedin