ArtBinita, an artist based currently in Bangalore with a strong passion for creativity and spirituality, has embarked on a remarkable journey through the world of art and design. From a childhood spent admiring budding artists and art exhibitions in Kolkata to becoming a renowned artist with a unique artistic style, ArtBinita's path has been guided by a deep connection to spirituality. This article delves into the artist's journey, influences, creative process, and future aspirations.
Growing up in Kolkata, ArtBinita was drawn to the world of art from an early age. The city's rich cultural heritage and exposure to artists in book fairs and exhibitions left a lasting impression. Despite working as a user experience designer in the software industry, the allure of traditional art remained strong. Pursuing a Diploma at the Academy of Fine Arts in Kolkata and further training in Bangalore helped lay the foundation for ArtBinita's artistic journey.
For ArtBinita, creativity is deeply personal and subjective. The artist's pieces are an expression of emotions, states of mind, and a meditative flow that allows for a connection to greater forces. Nature, music, books, poetry, and spirituality serve as profound sources of inspiration, leading to works that reflect on being a woman and the emotional experiences that come with it.
One of the defining aspects of ArtBinita's art is the focus on spirituality. Buddhism, in particular, has played a significant role, inspiring the creation of the 'Sadhana' series. 'Sadhana,' meaning applying mind and intelligence towards a spiritual goal, explores the spiritual practices of the eternal master 'Buddha.' Through these works, ArtBinita communicates themes of love, light, the relationship with God, and the pursuit of inner peace amidst external chaos.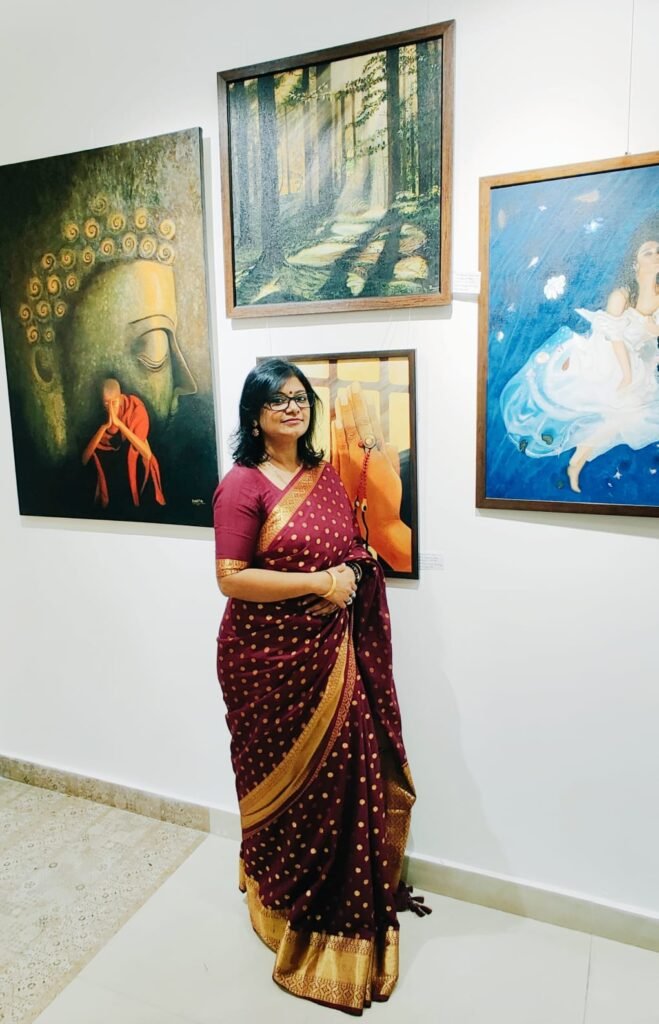 ArtBinita has experimented with various artistic mediums, but the artist's heart has settled on acrylic paint on canvas. The modern artist's world values acrylic for its fantastic features and versatility. Additionally, the artist enjoys creating sketches and portraits using colored pencils, graphite, and charcoal. The versatility and natural appeal of these mediums have kept ArtBinita captivated.
Apart from being an artist, ArtBinita is also an energy healer. The use of life force energy aids in healing, transforming, and enhancing creativity. Intuitive art serves as a therapeutic approach to tackling challenges. Looking ahead, ArtBinita aspires to host art therapy workshops, using art as a powerful tool to facilitate healing in others.
ArtBinita's artistic journey has been enriched through participation in various art exhibitions and collaborations with fellow artists and curators. With the world shifting online, 'ArtBinita' emerged as a personal identity to showcase and sell artwork on various social media platforms and a dedicated website.
As an artist, ArtBinita's future goals include expanding into the international market and engaging in exciting collaborations. The desire to continue evolving creatively while staying true to spiritual inspiration remains at the core of ArtBinita's journey.
ArtBinita's journey as an artist reflects a deep-rooted connection to creativity, spirituality, and self-expression. From admiring artists at book fairs in Kolkata to showcasing artwork at international exhibitions, the artist has carved a path that remains fulfilling and inspiring. With spirituality as a principal subject and a focus on art as a means of healing and growth, ArtBinita's work continues to resonate with audiences worldwide.
Website = https://www.artbinita.com