Sui Dhaga – A Weaving Saga, founded by Adeete Banerjii, is a renowned saree brand that celebrates the rich traditions and cultures of India through its exquisite handcrafted weaves. With a vast collection of premium handwoven sarees sourced from skilled artisans across different regions, the brand showcases the diverse beauty and history of Indian textiles. This article delves into the origin of "Sui Dhaga – A Weaving Saga" and highlights the inspiring dual journey of motherhood and entrepreneurship that shaped its foundation.
"Sui Dhaga – A Weaving Saga" is not just a saree brand; it is a custodian of Indian heritage. Through careful curation, the brand selects the finest sarees, including Paithani from Maharashtra, Berhampuri and Dolabedi from Odisha, Gadwals and Pochampally Ikkat from the South, Swarnochuri and Baluchuri, and Kantha stitch from West Bengal, as well as Eri Silk, Toss Silk, and Muga Silk from Assam, among many others. Each piece is a work of art, interwoven with the weavers' everyday experiences, reflecting the essence of the region it originates from.
The heart of "Sui Dhaga – A Weaving Saga" lies in the empowerment of skilled artisans and weavers. By sourcing sarees directly from these artisans, the brand not only preserves traditional weaving techniques but also provides sustainable livelihoods to these talented craftsmen. The impact of this initiative goes beyond preserving heritage; it uplifts entire communities and creates a ripple effect of prosperity.
The concept of "Sui Dhaga – A Weaving Saga" was conceived during Adeete Banerjii's pregnancy, when she decided to take a break from her successful corporate career to be with her son full-time. This new chapter in her life presented an opportunity to pursue her passion for sarees and support traditional artisans simultaneously. The birth of her son gave her the courage to chase her dreams and embark on a remarkable journey of motherhood and entrepreneurship.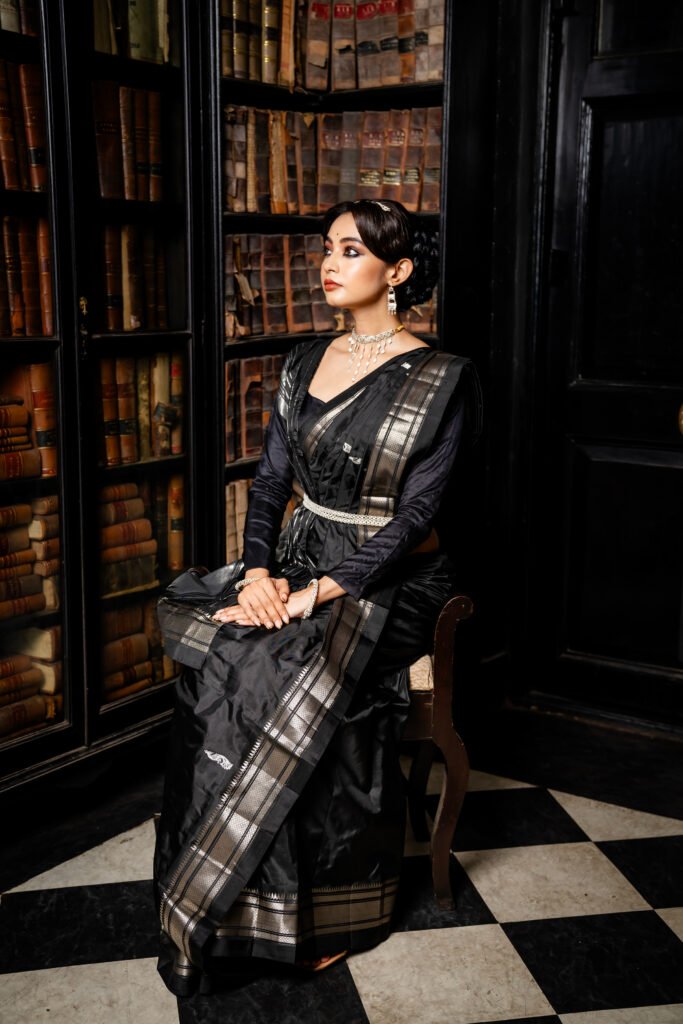 Balancing motherhood with a thriving entrepreneurial venture is a challenge Adeete Banerjii embraced wholeheartedly. Her son, Shlloak Banerjii, played a crucial role in supporting her aspirations. His understanding and encouragement provided the necessary impetus for Adeete to build "Sui Dhaga – A Weaving Saga" into the successful brand it is today. Her story is a testament to the power of family support in overcoming hurdles and achieving personal and professional goals.
"Sui Dhaga – A Weaving Saga" has transcended borders and catered to customers worldwide. From India to countries like the USA, UK, UAE, Australia, Singapore, Europe, and Africa, the brand has garnered a global following. Its commitment to quality, craftsmanship, and sustainable practices resonates with saree enthusiasts across cultures, further elevating the status of Indian textiles on the international stage.
"Sui Dhaga – A Weaving Saga" exemplifies more than just a saree brand; it represents a celebration of India's vibrant heritage and the spirit of entrepreneurship. Adeete Banerjii's inspiring journey, fueled by her love for sarees and the unwavering support of her son, showcases the potential to turn dreams into reality. As the brand continues to thrive, it leaves an indelible mark on the world of fashion, fostering the appreciation and preservation of India's diverse weaving traditions.