Meet Dr. Neha Bhat, a remarkable individual with a multifaceted personality. From being an accomplished professional to a dedicated social worker, Dr. Neha Bhat has made significant contributions in various domains. Her journey is nothing short of inspiring, as she continues to impact lives positively through her diverse roles.
Dr. Neha Bhat's journey began in Jammu, and she now resides in New Delhi. Her educational achievements include an MBA in Marketing and Finance, an MSc in Software Technology and Management, and two Ph.Ds in Financial Economics and Auditing Systems, the latter of which earned her a prestigious Gold award.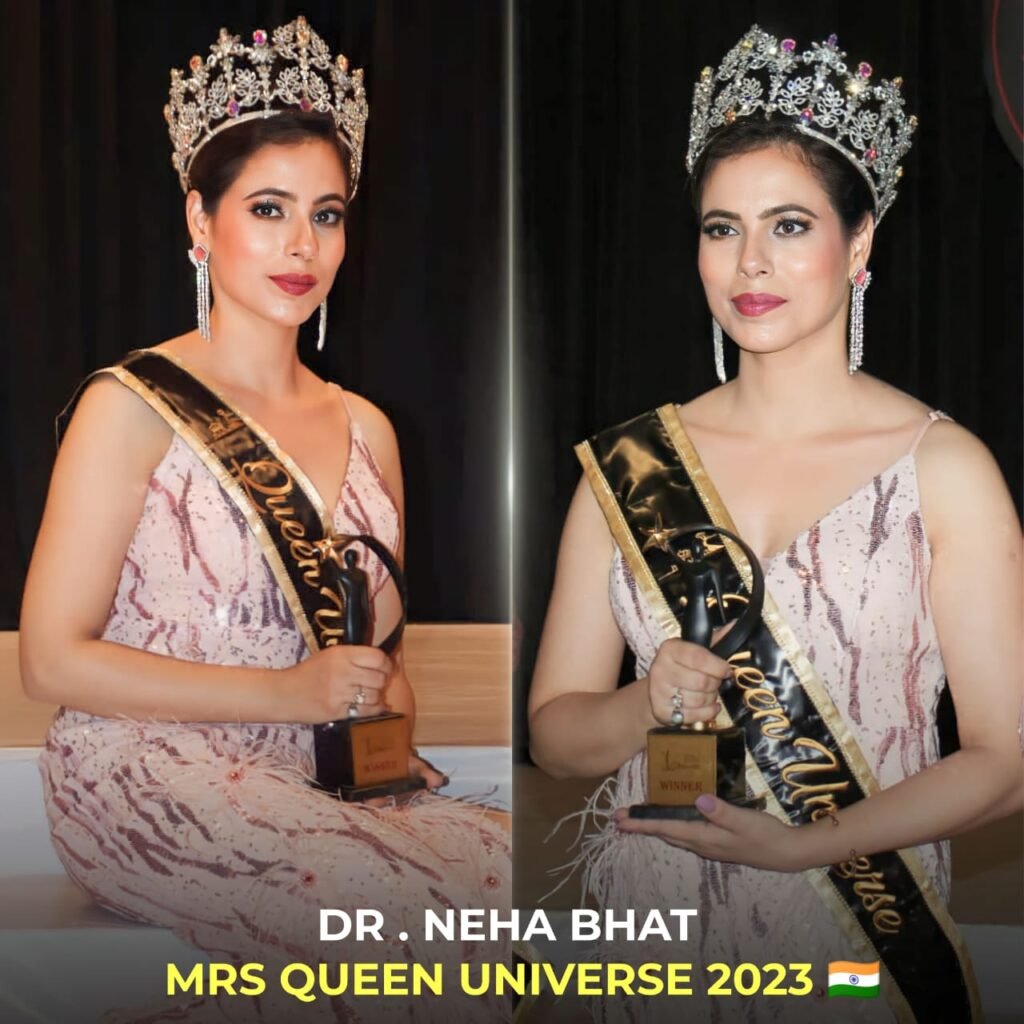 Dr. Neha Bhat has an extensive professional background that showcases her versatility. As an Internal Auditor at a pharmaceutical company, she ensures financial compliance and efficiency. She also shares her expertise as an Economics Professor, educating and nurturing young minds.
In addition, she serves as an Educational Counselor, guiding students to make informed academic decisions, and a Business English Coach, honing language and communication skills. Her expertise in Soft Skills and Personality Development has allowed her to train and empower individuals from various walks of life.
In 2007, Neha's life took an unexpected and tumultuous turn when she received the devastating news of her cancer diagnosis. Everything seemed to fall apart – her health, her appearance, her desires, and her sense of hope. Facing the daunting prospect of battling this formidable foe, Neha refused to succumb to despair. With unwavering determination, relentless hard work, and a presence of mind that kept her focused, she embarked on a courageous journey of healing and resilience. Neha chose the path of Ayurvedic treatment, seeking solace and strength in its ancient wisdom. Through three arduous years from 2007 to 2010, she fought like a warrior, emerging victorious, and transforming into a beacon of inspiration for others facing similar trials. Her journey became a testament to the power of the human spirit and the transformative potential of Ayurvedic healing in the face of adversity.
Dr. Neha Bhat is a true entrepreneur at heart. She founded "Talks with Naina" in 2016, an online platform offering Personality Development classes. Recently, she established the "Crowns Story Grooming School" in 2023, providing valuable training and support in various domains.
With her passion for art and modeling, Dr. Neha Bhat is also an accomplished model and artist. She uses her talents as a Casting Director and Talent Manager for models, and actively participates as a co-organizer in fashion shows.
Dr. Neha Bhat has been recognized for her excellence and grace, winning the title of Mrs. Queen Universe 2023 (Mrs. India HomeMakers) and Mrs. Glowing Skin 2022-23 (Mrs. India Legacy). She also serves as an Associate Director for Mrs. India HomeMakers Pageant, playing a significant role in empowering married women.
Apart from her professional achievements, Dr. Neha Bhat is a devoted social worker, silently mentoring victims of domestic violence and human trafficking. She also engages in fundraising for noble causes, supporting campaigns like "Masik Satya" powered by Ketto and "No one sleeps hungry tonight" by Avyayam Foundation, among others.
Dr. Neha Bhat's dedication to her work and philanthropy has earned her a well-deserved place on the Advisory Board of Rising Youth Superstars of India 2023. She is also a member of the Indian Women's History Museum and the We Care Media Foundation. Notably, her contributions were recognized when she was featured in "The Entrepreneur Ethics" and honored with the Balikavidya Shakti Award in 2022-23.
Dr. Neha Bhat's journey is an inspiring tale of excellence, versatility, and compassion. From excelling in the corporate world to empowering others through mentoring and social work, she has truly become a role model for many. Her passion for learning, love for nature, and dedication to making a difference in society exemplify her extraordinary character.
Twitter – https://twitter.com/Neha26